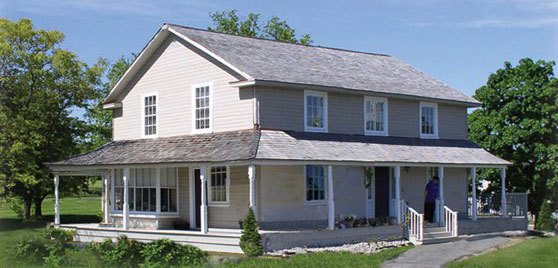 Hope and Healing Through Connection
DHH is a dynamic non-profit organization dedicated to enhancing quality of life through the provision of non-medical support for those affected by or caring for an individual with a life-threatening illness, as well as bereavement support.
Welcome to Doane House Hospice
Serving the communities of north Aurora, Bradford, East Gwillimbury and Newmarket.
Charitable Registration Number: 14033 7437 RR0001
---
DOANE HOUSE HOSPICE HOURS OF OPERATION.
Monday - Thursday 8:30am - 4:30pm
CLOSED: Friday, Saturday, Sunday
---
---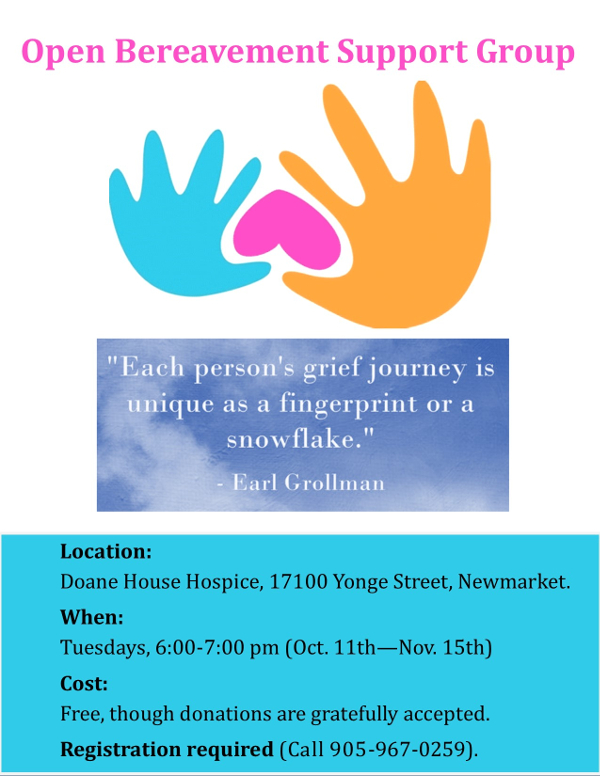 ---
Support Doane House Hospice by getting a Haircut! :)

Everybody has to cut their hair at some point!

Why not make an appointment at Visions Hair & Esthetics Academy Inc. (Main & Queen, Newmarket)? 100% of the donations collected here on September 25, 2016 will support Doane House Hospice and Gilda's Club Greater Toronto. Not only that, with a minimum $35 purchase, you get a free gift bag (while supplies last). :)

Please SHARE and spread the word to family and friends!

Prices:
$18 pink streak (breast cancer awareness)
$25 wash, cut, treatment
$35 wash, cut, style
$60 full head of colour (colour donated by Goldwell)
$100 full head of technique colour, hair painting, highlights (colour donated by Goldwell).

CALL Visions at 905-836-4616 to book your appointment today! :) They will try to accommodate as many walk ins as possible.
---
NEW ART THERAPY GROUPS FOR SEPTEMBER-OCTOBER!

We have free art therapy programs available for those diagnosed with life-threatening illness as well as caregivers.

Call 905-967-0259 to register.

ART THERAPY FOR THE NEWLY DIAGNOSED

Click the photo (left) for more information about our art therapy program for people who have been newly diagnosed with a life-threatening illness.

ART THERAPY FOR CAREGIVERS

Click the photo (left) for more information about our art therapy program for those who are caregivers to persons with life-threatening illnesses.
---
---
---
Doane House Hospice Board of Directors President, Scott Allan shared this sentiment in the last of four York Region Banner articles featuring Doane House Hospice called, "To the better end:"
"The Hospice wouldn't have existed this long without support from the community. We are fortunate to live in a very generous community."
This last article, published in the April 28, 2016 edition, by Simon Martin 'tells it like it is,' bringing awareness to the "difficulties and challenges of keeping the non-profit group alive."
While "the lifeblood of any charity organization is its volunteers... even the most dedicated volunteers need the right equipment, co-ordination and organization and that takes money."

"A key challenge the hospice faces moving forward is that demand for its services is at an all-time high, while government funding has been stagnant for more than a decade. "What has snowballed is the demand," Allan said.
"To the better end" is a series of articles, featuring different aspects of Doane House Hospice published in the York Region Banner each Thursday in April. Doane House Hospice is grateful to the Banner for the awareness achieved by these four articles and greatly appreciates the support of this Community Partner.
(

Click on the image to read article #4 and find all articles in the series in this website under Publications in the Resources tab.)
---
---
---
Doane House Hospice promotes living every moment, and offers individuals diagnosed with a life threatening illness, compassion, support and hope.
Our programs and services are designed to support the individual by meeting their emotional, spiritual and physical needs. This gives the individual the ability to make the right decisions for their care, through being able to navigate the system, access the right care at the right time, and help support their family and friends through caregiver relief and bereavement.
Doane House Hospice is a volunteer based organisation and part of an interdisciplinary team that works towards helping our clients live life to the fullest with dignity, hope and comfort. Please click here for a short video on Doane House Hospice.
---
Too Often we underestimate the power of a touch, a smile, a kind word, a listening ear, an honest compliment, or the smallest act of caring, all of which have the potential to turn a life around.
Leo Buscaglia
---
Philosophy of Hospice
---

Picture This
Help sustain the Art Therapy program by purchasing prints of some of the art created by the clients.

Featured Art From the
Art Therapy Program
Art Therapy is a different approach to traditional talk therapy, where participants can use the art process to express thoughts and feelings they may not know how to otherwise express.