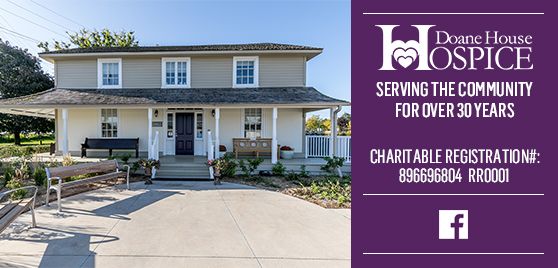 Hope and Healing Through Connection
DHH is a dynamic non-profit organization dedicated to enhancing quality of life through the provision of non-medical support for those affected by or caring for an individual with a life-threatening illness, as well as bereavement support.
Community Grants
Doane House Hospice has to raise $250,000 this year to continue to provide free programs and services to the community, grants are an important part of our annual budget.
Caring Community
Beta Sigma Phi has done it again! For almost 30 years, the sisters have raised much needed funds for various local charities by wrapping gifts during the month of December at Upper Canada Mall. To date, they have raised and donated more than $350,000. Doane House Hospice was one of seven charities who received a wonderful donation from the Newmarket Beta Sigma Phi sorority. This donation couldn't have come at a better time for us as we have seen a 47% client increase during the last year which is putting a huge strain on our organization as we continue to offer free programs and services to the community without any increase in government funding. This donation is an example of how our community values the work that we do. So, we would like to thank Beta Sigma Phi for this wonderful and much needed support. The Newmarket sisters rock!!
Beta Sigma Phi Holiday Gift Wrap.

Mr. Christopher C. Sorley, Barrister and Solicitor.
---

Picture This
Help sustain the Art Therapy program by purchasing prints of some of the art created by the clients.

Featured Art From the
Art Therapy Program
Art Therapy is a different approach to traditional talk therapy, where participants can use the art process to express thoughts and feelings they may not know how to otherwise express.