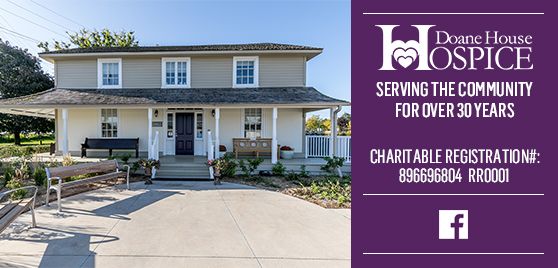 Hope and Healing Through Connection
DHH is a dynamic non-profit organization dedicated to enhancing quality of life through the provision of non-medical support for those affected by or caring for an individual with a life-threatening illness, as well as bereavement support.
Sponsor an Event
---

Third Party Events are those created, managed and run by various businesses, individuals, groups and service clubs for the benefit of Doane House Hospice.
Holding a third party event is a wonderful way to show your support for compassionate hospice care in your community. Ideas include golf tournaments, raffles, walk-a-thons, car washes, BBQ's, to name just a few.
Please contact us at (905) 967-0259 if you are interested in holding a Third Party Event for Doane House Hospice.
Raising funds to support these programs is vital to those who rely on us to help them through the challenges of living with life-threatening illnesses, or bearevement. And we can't do it without you.
---
---
Our thanks to all our supporters who have organized a wide range of third party events to help us raise much needed funds, and have fun at the same time!
Here are a few held in the past - thank you again for all your support!
---
100+ Women Who Care York Region

100+ women members of this Central York Region Chapter meet 4 times each year at which time each member donates $100. Members brings forward their nominations for not-for-profit charities serving our area. The selected organization receives all funds raised, based on membership at that meeting.
---
Keller Williams Realty Charity Golf Tournament

Marvin Alexander and his team at Keller Williams Realty Centres understands the importance of giving back to our community. KWRC has chosen Doane House Hospice as the recipient of their golf tournament proceeds for 5 years! The funds were raised during the Keller Williams Annual Golf Tournament which took place in July. This year, $7,000 was raised and Carol Edward, VP of Hospice & Deborah Kesheshian, (former) Director of Development were grateful to accept this wonderful donation. For more details, visit www.doanehospice.org or www.kwrealtycentres.com

---
Aurora Mayor's Charity Golf Classic

The Aurora Mayor's Charity Golf Classic has raised more than $735,000 to date and through its sponsorship program has financially assisted several community organizations to provide much needed services to residents living in the Town of Aurora. The tournament took place once again at SilverLakes Golf & Conference Centre and the weather was glorious! Thank you to all of the sponsors, the volunteers, golfers, the organizing committee and to Mayor Dawe for continuing this wonderful event. Thank you for stepping up and giving back to our community!
---
Send questions or comments to 905-967-0259 ext. 102 or email us at info@doanehospice.org.
---

Picture This
Help sustain the Art Therapy program by purchasing prints of some of the art created by the clients.

Featured Art From the
Art Therapy Program
Art Therapy is a different approach to traditional talk therapy, where participants can use the art process to express thoughts and feelings they may not know how to otherwise express.