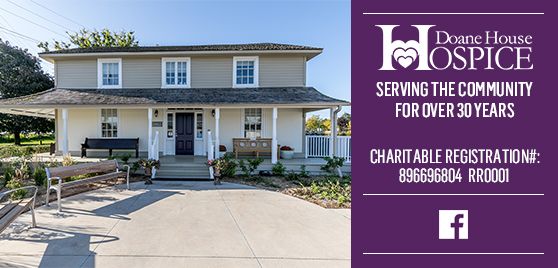 Hope and Healing Through Connection
DHH is a dynamic non-profit organization dedicated to enhancing quality of life through the provision of non-medical support for those affected by or caring for an individual with a life-threatening illness, as well as bereavement support.
The Hope Tree Initiative
The Hope Tree Initiative was the brain child of Brett Richards of Connective Intelligence Inc. Through personal experience and seeing what a difference the programs and services of Doane House Hospice make in peoples lives, Brett saw the need to increase awareness and for people to be able to connect with, and find support from, others in similar situations. He saw the opportunity to achieve this by using social media.
Lois (see 'Lois' Story' below) and Brett intend 2 purposes for this site: the first, is to provide another platform to connect by sharing cancer journeys with others in need of emotional support; the second, is to raise the much needed funds to safeguard the programs at Doane House Hospice. There is limited government funding so they understand the need to raise funds at the community level.
They point out that there are millions of dollars raised for cancer research each year. Many have walked, run, and donated generously to cancer research. However, there are few fundraising dollars that go directly to patient support initiatives. Please help Lois and Brett achieve their goal of raising $100,000 for Doane House Hospice.
Lois' Story
"I have spent the past 2 years battling and beating cancer. I have many people to thank; some who were front line supporters, I call them my angels, and others who were steadfast in their support in whatever ways they could. My family were my rock, the hospital staff and doctors were exceptional, and the emotional support I received in the community at Doane House Hospice all helped me pick up the pieces of my life. We are not on this cancer journey alone.
During treatment and through recovery I was able to attend two wonderful programs at Doane House Hospice here in Newmarket. I attended yoga when I could barely get down on the floor or back up again. This class gave me strength and flexibility when it was difficult to even walk. I also attended a relaxation and visualization program which gave me skills to help myself deal with the emotional rollercoaster that comes with cancer. In this support group I have learned that the connection with others gives us hope and helps in the healing process."
Lois Richards
To learn more about this exciting new initiative, please click the graphic below and visit The Hope Tree website and be sure to watch the video on the home page.

---

Picture This
Help sustain the Art Therapy program by purchasing prints of some of the art created by the clients.

Featured Art From the
Art Therapy Program
Art Therapy is a different approach to traditional talk therapy, where participants can use the art process to express thoughts and feelings they may not know how to otherwise express.