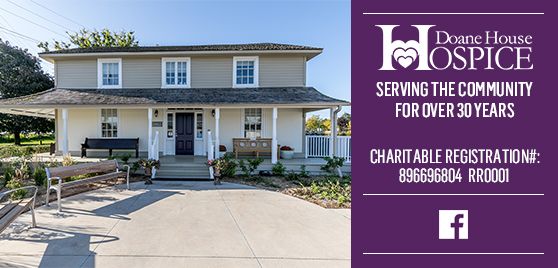 Hope and Healing Through Connection
DHH is a dynamic non-profit organization dedicated to enhancing quality of life through the provision of non-medical support for those affected by or caring for an individual with a life-threatening illness, as well as bereavement support.
---

Doane House Hospice thanks all our individual and corporate sponsors who have uniquely and generously supported our programs and events.
---
"From Caring Kitchens" Cookbook

Our new fundraising cookbook "From Caring Kitchens" supports Doane House Hospice and The Margaret Bahen Hospice. We are so grateful to the local businesses pictured here who helped fund its printing and who now help promote its sale. "From Caring Kitchens" is filled with comforting, special recipes from these amazing partners as well as our clients, residents & families, our staff and volunteers. All proceeds of this $20. cookbook support our two hospices and are always available by calling 905-967-0259.
Oasis Program Lunch Providers

These 4 Newmarket restaurants and caterers have committed to providing wonderful lunches and snacks for our Oasis client program during the year. Doane House is grateful to be able to offer our clients such a rotation of delicious and nutritious food options that add to the benefits of this program.
The Region of York Quilters Guild

This non-profit organization gives back to the community with heart in every stitch! Each winter, Doane House Hospice's clients and families receive the beautiful quilts created and donated by guild members throughout the year.

---

Picture This
Help sustain the Art Therapy program by purchasing prints of some of the art created by the clients.

Featured Art From the
Art Therapy Program
Art Therapy is a different approach to traditional talk therapy, where participants can use the art process to express thoughts and feelings they may not know how to otherwise express.