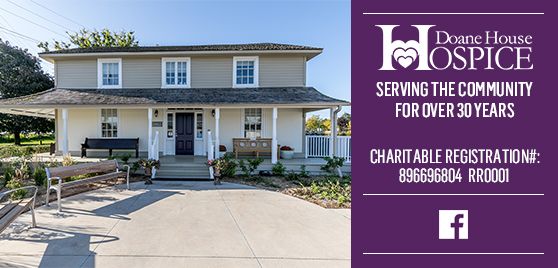 Hope and Healing Through Connection
DHH is a dynamic non-profit organization dedicated to enhancing quality of life through the provision of non-medical support for those affected by or caring for an individual with a life-threatening illness, as well as bereavement support.
Monthly Donations
---
Becoming a monthly donor to Doane House Hospice is an easy way for you to provide financial support and show your ongoing dedication toward helping Doane House Hospice continue to deliver quality programs and services.
By making a predetermined contribution from your credit card, giving becomes much more convenient for you because it saves writing and mailing cheques and the cost of postage. You can donate what you are able and change or cancel your donation at any time. For Doane House Hospice, it provides a predictable stream of income, allowing us to cut down on mailing and administrative costs.
To become a Doane House Hospice monthly donor, click here to print off our donation form that can be mailed or faxed to us to set up your monthly gift. or click the link https://www.myhospice.ca/support-my-hospice/ and state its for DHH.
---
If you would like more information about making a 'Doanation' please call 905-967-0259 or email questions or comments to info@doanehospice.org.
Charitable Registration Number: 896696804 RR0001

---

Picture This
Help sustain the Art Therapy program by purchasing prints of some of the art created by the clients.

Featured Art From the
Art Therapy Program
Art Therapy is a different approach to traditional talk therapy, where participants can use the art process to express thoughts and feelings they may not know how to otherwise express.