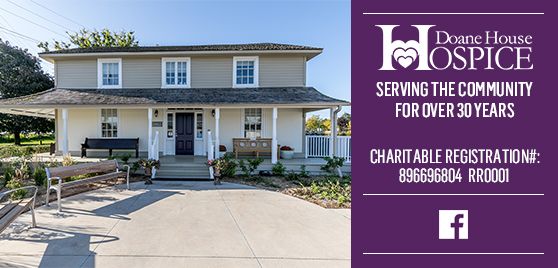 Hope and Healing Through Connection
DHH is a dynamic non-profit organization dedicated to enhancing quality of life through the provision of non-medical support for those affected by or caring for an individual with a life-threatening illness, as well as bereavement support.
Privacy Policy
---
Doane House Hospice Privacy Guidelines and Principles
Doane House Hospice (DHH) values the trust you have placed in us. We respect your personal privacy and do our best to safeguard its confidentiality and security.
We collect and use your personal information to:
Identify the most appropriate services for you;

Make certain that you are eligible for those services;

Share with other services or people (as agreed by you) to organize your support

team;
We'll explain to you why we ask for personal information and how we will use the information you give us. We will only ask for information that we need to provide service to you.
We'll keep your information accurate and up to date, allow only authorized people to see your information and always keep your information secure.
We'll ask for your permission to collect, keep use and share information with others. The consent you give is valid until you withdraw it in writing.
We'll only use or share your personal information for the purposes for which you gave it to us, unless we are required to do so by law.
We will keep your information only as long as required by law.
DHH safeguards confidentiality and security in accordance with the Personal Health Information Protection Act.
You may ask to see the information we have about you. If you would like to see this information, please contact the Executive Director. If you feel that any information is incorrect or incomplete, we ask that you tell us. If possible, we will correct the information.
If you have any questions, comments or complaints about our privacy policies and procedures, please contact our administrator at 905 967 0259 or email us on info@doanehospice.org for further information.
This information is accessible through our website and on-site of Doane House Hospice.
---

Picture This
Help sustain the Art Therapy program by purchasing prints of some of the art created by the clients.

Featured Art From the
Art Therapy Program
Art Therapy is a different approach to traditional talk therapy, where participants can use the art process to express thoughts and feelings they may not know how to otherwise express.