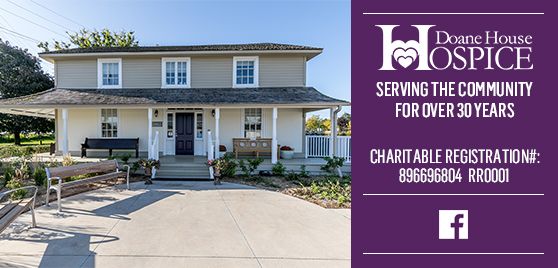 Hope and Healing Through Connection
DHH is a dynamic non-profit organization dedicated to enhancing quality of life through the provision of non-medical support for those affected by or caring for an individual with a life-threatening illness, as well as bereavement support.
---
CURRENT PROGRAMS
---
Doane House Hospice and our collaborative partner, The Margaret Bahen Hospice are following the advice of health authorities in order to ensure the safety of our clients, staff, volunteers and visitors. As a result, Doane House Hospice has been offering a variety of programs and services, in-house and virtually, to our existing clients. Please note, our services are free (donations welcome and appreciated) and available to all in our community.
For more information on how we can support you call 905-967-0259
---
GRIEF SUPPORT - GROUP
---
SPOUSAL LOSS GROUP - 5 week program

Grief counselling group for adults who have experienced the death of a spouse.
Afternoon and evening program - (Determined by age)
Registration required
CAREGIVER SUPPORT GROUP - 7 week program

Join us and other caregivers at Margaret Bahen Hospice
Wednesday evenings (See POSTER for dates and details)
6:00 pm - 7:30 pm.
Registration required.
---
BEREAVEMENT WORKSHOPS
---
TRANQUILITY CANDLES

Create a candle for the Holiday Season
Friday December 10th 2pm - 4:30 pm
Registration required - details on poster
---
ART THERAPY WORKSHOPS
---
REMEMBERING

Adult Art Therapy Workshops - (TWO different - Details in Poster)
Commemorate and connect with deceased family and friends during the holiday time.
Tuesday, December 7th from 5:30pm-8pm: Paper Ornament Making
Tuesday, December 14th from 5:30pm-8pm: Card Making and Writing
Registration Required


---
VIRTUAL PROGRAMS
---
(Virtual Program) Healthy Body, Peaceful Mind
Relaxation & Visualization with Sarah Feiner.
Friday mornings (see poster for dates)
11:00 am - 12:00 pm
VIRTUAL Program: SIT and DANCE!
Every Thursday from 4:00 to 4:30 pm.
---

Picture This
Help sustain the Art Therapy program by purchasing prints of some of the art created by the clients.

Featured Art From the
Art Therapy Program
Art Therapy is a different approach to traditional talk therapy, where participants can use the art process to express thoughts and feelings they may not know how to otherwise express.