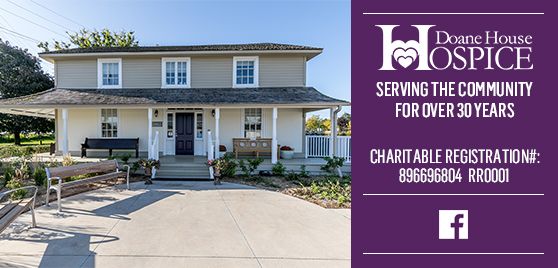 Hope and Healing Through Connection
DHH is a dynamic non-profit organization dedicated to enhancing quality of life through the provision of non-medical support for those affected by or caring for an individual with a life-threatening illness, as well as bereavement support.
Client Service Volunteers
Client Service Volunteers support individuals living with a life threatening illness and their family members. There are several ways to directly support our clients:
Visiting Program Volunteers

- Provide weekly visits to clients in their home to offer companionship, emotional, spiritual and practical support and short-term caregiver relief.

Oasis Program Volunteers

– Held at Doane House Hospice once a week, the Oasis program provides support to individuals living with a life threatening illness. Volunteers attend once or twice a month and assist with coffee/tea, lunch and activities, interact with clients and provide program support.

Volunteer Drivers –

Drivers transport clients to and from the Oasis Program on Thursdays – dropping them off for 10am and picking them up by 2pm. Volunteer Drivers commit to this one day a week program.

Support Services Program Volunteers

– Volunteers assist with and/or co-facilitate bereavement and caregiver support groups and art therapy groups.
The process to become a Client Services Volunteer is extensive and requires a tremendous commitment to all that join the team. It takes a special person to be a hospice client volunteer. Successful individuals can explain why it is they are drawn to this type of work, have some knowledge of loss and are aware of the differences in the way people experience grief. Successful volunteers are able to listen and understand that volunteer work is not a place to share their own opinions.
Process:
Review our website and familiarize yourself with what we do
Read and reflect on the Things to Consider
Arrange for an Interview
Provide two personal references (not family)
Obtain "Police Vulnerable Sector Check" through http://www.yrp.ca/en/services/vulnerable-sector-check.asp
Complete of the 30-hour Core Concepts in Palliative Care Course offered through PalCare Network for York Region
Complete the two-hour DHH Orientation/Debrief meeting
Attend at least three continuing education sessions (offered by DHH or in the community).
Commitment: 2-4 hours/week for 12 months upon completion of the training.
---

Picture This
Help sustain the Art Therapy program by purchasing prints of some of the art created by the clients.

Featured Art From the
Art Therapy Program
Art Therapy is a different approach to traditional talk therapy, where participants can use the art process to express thoughts and feelings they may not know how to otherwise express.